Payment Guide
Access China Travel accept the most popular and safest payment methods such as wire transfer (Bank of China), credit card, Paypal and Western Union for our clients convenience. You can choose one for your preference.
Important Note

1. Deposit & Final payment
A deposit which is equal to 30% of the total tour cost is required at the time of booking with Access China Travel. The full and/or final payment is required 30 days before departure for your China tour. Should the tour booked within 30 days before departure for your China tour, full payment is required.
2. The quote of exchange rate between the RMB/CNY and the USD, or between the RMB/CNY and other currencies is subject to slight change due to the timely fluctuation of international exchange rate market. You are aware of that each payment requires differently due days prior to the arrival date of your tour. Before payment, please click to see current exchange rate for reference at Bank of China or Universal Currency Converter.
Methods of Payment
Paypal

(1). Visa or Master Card secure online payment via PayPal.
Paypal is a safer, easier payment method online. You don't need to provide any information or your credit card to our company.
(2). If you own a Paypal account, please login to complete your transaction after you confirm the cost to book with your travel consultant.
(3). If you do not have a Paypal account, you can still pay us at Paypal's website by providing your credit card information. Paypal accepts all the major credit cards and debit cards. Also, you can apply for a account on Paypal's Official Website (www.paypal.com), it is easy and free!
Our Paypal account:
You can pay directly online to our Paypal account: pay@accesschinatravel.com after logging in your account at Paypal Official site www.paypal.com

Note: Please kindly mark up extra 5% Paypal service fee over the total cost if you choose to pay via Paypal.
Western Union
Please follow the steps below to make pay by Western Union: if Western Union Transfer Service is available, you can choose it to pay for China trip, which is faster and more convenient than regular wire transfer.
The information for Western Union Transfer as below:
Receiver's First Name: Xiancai
Receiver's Last Name: Luo
City: GUILIN
Country: CHINA
After you paid via Western Union, please kindly inform us the full name of the sender, the sum of money, details of your address, and also the Money Transfer Control Number provided by Western Union.
For more information, please visit Western Union official site at http://www.westernunion.com/ where you can also trace your transfer. Here below is a sample Western Union form: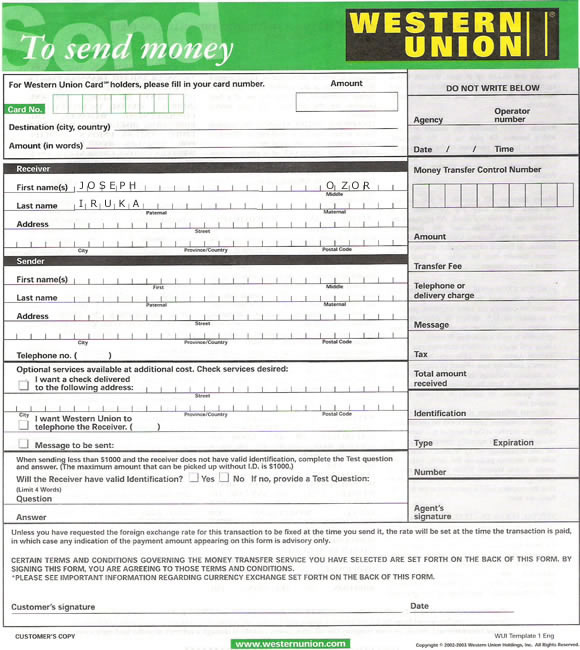 Wire Transfer

Please follow the steps below to pay via wire transfer
(1). Print out confirmation E-mail and find out how much you need to wire to us for the tour.
(2). Find our Bank information either from the same E-mail that your print out just now or below on this page!

(3). Call and then go to your favorite banks. when making the transfer, don't forget to write our tour code and your tracking code on the transfer transaction sheet/receipt issued by the bank. After you paid, please E-mail or Fax (No: 86-773-3826277) to inform us of your payment. Once we have received your payment fax, we will start to secure your booking.
Note:
(a). If you choose to make the payment through wire transfer, please be aware that it may take at least 10 days for the money to reach our account. We recommend you do the transfer via Bank of China, as it will reach us much faster than using other banks.
(b). While making wire transfer, please don't forget to write our tour code on the transfer sheet.
(c). Please inform us either by fax or E-mail after you have wired us the money.
(d). Our Bank Information for wire transfer:
Beneficiary : LUO XIAN CAI
Beneficiary Bank : BANK OF CHINA, GUILIN BRANCH
Bank Address : No.7 SHANGHAI ROAD, GUILIN, GUANGXI, P.R.CHINA
Beneficiary Account Number : 621052627101
SWIFT NUMBER : BKCHCNBJ49C (Please use this if your bank requires ID or Beneficiary Bank, Routing/ABA Number)
We also open company RMB account for the expats and the foreigners who study and work in China. You are supposed to pay via wire transfer for China tour booking 30 days before your departure date.

Credit Card

Please follow the steps below to make payment via Credit Card
(1). Please click to download a form(PDF file / HTML file) , Print out and fill it.
(2). Please have your credit card (Back and front) and the photopage of your passport copied.
(3). Please sign your name at the end of the form equivalent to signature on your credit card.
(4). You are recommended to fax us your credit card information to our company number: +86-773-3826277
Or if you have a scanner, just scan the above information and send them to us by E-mail.
Note:
(a) Bank of China will charge an extra 3% service fee over the cost.
(b) We do not accept debit cards for this way of payment.
Please be noted that this is a guarantee of your payment, we will NOT charge a deposit until from your card after you deliver a formal booking.